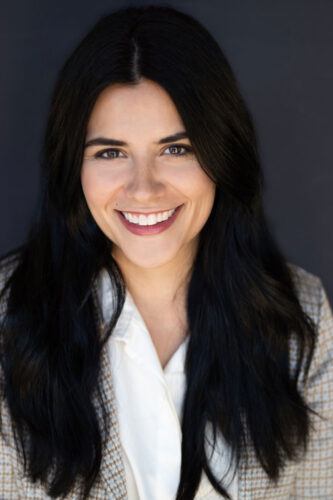 Taylor Dupuis (voice)
Taylor Dupuis is a singer, songwriter, and performer based in Nashville, TN. She began singing at the age of eight. Over the years she has been in and out of voice lessons and studied vocal performance at Columbia College Chicago.
Taylor has been active in the music industry for 10 years, writing songs, recording, and going on tour across the U.S. as the front woman for the rock band Roanoke. Her music has been featured in publications such as American Songwriter, No Depression, The Huffington Post, The Tennessean, and PopMatters.
Taylor is passionate about all things music, and is dedicated to bringing her expertise, enthusiasm, and passion to each lesson.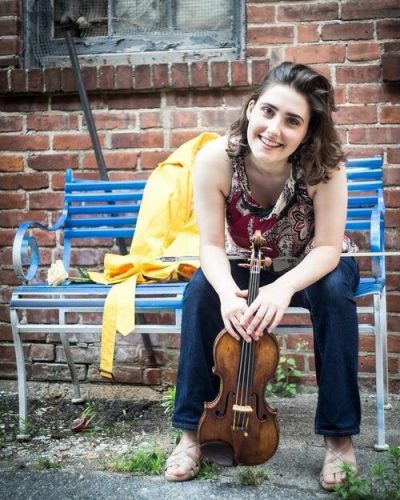 Gergana Haralampieva (violin)
Gergana is a Bulgarian-American violinist who is a passionate chamber musician and educator. Born into a family of music teachers, Gergana began singing in her father's children's choir at the age of three and playing the violin at the age of six. Although she was born in Bulgaria, she spent her whole childhood living in the Czech Republic where her parents worked and in 2005 moved to Massachusetts after her dad won the Diversity Immigrant Visa lottery. After moving to Massachusetts, Gergana continued her violin studies at the New England Conservatory's Preparatory School and later attended the Walnut Hill School for the Arts. Upon her graduation from the Walnut Hill School, she moved to Philadelphia to pursue her Bachelor's Degree at the Curtis Institute of Music where she studied with Ida Kavafian and Pamela Frank. In 2016, she moved back to the Boston area to complete a Masters Degree from the New England Conservatory under the tutelage of Paul Biss and Miriam Fried.
Gergana is currently a member of Ensemble Connect at Carnegie Hall which is a two year fellowship for young professionals who want to expand their experience in teaching, community engagement, advocacy, entrepreneurship, and leadership. She is also the co-founder and co-director of Long Island Chamber Music (LICM). LICM presents engaging chamber music performances and community engagement events of the highest caliber that are specifically tailored to celebrating the history and culture of Long Island.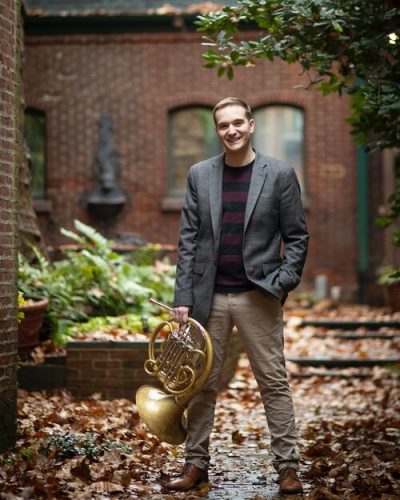 Eric Huckins (horn, all brass)
Hailed for his "sparkling, crystal clear sound" (Brass Legacy) New York based french horn player Eric Huckins is dedicated to creatively sharing music through diverse musical styles. A winner of Astral Artist's 2018 National Auditions, Eric is the first horn player to be a part of their roster.
As a chamber musician, Eric has been a founding member of multiple groups including The Brass Project and Tangent Winds and a prize winner at The Fischoff Competition. He has toured the United States extensively with Frisson Ensemble and The Rodney Marsalis Philadelphia Big Brass. Eric has been a featured artist at various chamber music festivals including Music from Angel Fire, Ostrava Days, and Cape Cod Music Festival.
Passionate about expanding repertoire for the horn, Eric regularly commissions and premiers new works for horn as a solo instrument and in chamber settings. Alongside composer Nick DiBerardino and The Brass Project, Eric curated an initiative, called "Cityscaping," generating thirty-five new pieces of engaging civic music for outdoor performance, including works by Pulitzer Prize winner Aaron Jay Kernis, Rome Prize winner Sean Friar, and Princeton Professor Emeritus Paul Lansky. Praised as "great fun" by the Philadelphia Inquirer, the project culminated in new music concerts in dozens of schools, public spaces, and non-traditional concert venues. Eric's anticipated debut album 'Drifter' (release date TBA) is a collection of new works for horn by Eric and 9 other young composers.
In orchestral settings, Eric is currently Principal Horn of Symphony in C and has appeared with orchestras throughout the United States and internationally such as American Ballet Theater, The Netanya Kibbutz Chamber Orchestra, and The Philadelphia Orchestra. On natural horn participating in historically informed ensembles, Eric has performed with Clarion Music Society and Teatro Nuovo Opera Orchestra.
A committed teacher, Eric is horn faculty at the Mahanaim School on Long Island and is a regular brass clinician at Fordham's Lincoln Center Campus and works regularly around the country as a clinician including a masterclass on brass and electronic music at The Juilliard school in October, 2018. Eric has been in residence at Navajo Technical University with The Heartbeat Project, working with students from Kindergarten through 12th grade on composition and improvisation.
A community builder, Eric is a Co-Founder and the Artistic Coordinator of The Arts at Blessed Sacrament, an arts series based in New York City which featured the work of young artists through chamber music, orchestral concerts, dance, and art installations at the Church of the Blessed Sacrament. In 2015, Eric revived the band program at South Philadelphia High School through his Community Artist Project at the Curtis Institute of Music which is now continued through Curtis' Community Artist Fellow program. Eric is looking forward to an upcoming project with the Aquinas Center in Philadelphia building "Stories of Home" through musical mediums.
Eric received his Bachelor's Degree from Curtis Institute of Music and his Master's degree from The Juilliard School. Outside of his musical life, Eric enjoys spending time with his Fiancé and violinist, Gergana and is an avid guacamole enthusiast.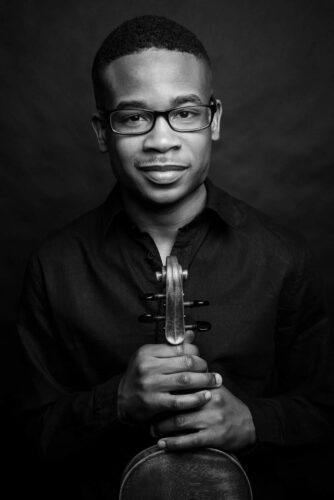 Ronald Long (violin)
American violinist Ronald Long spends most of the year performing with major UK ensembles including the Aurora Orchestra, Welsh National Opera, Chineke! Orchestra and Southbank Sinfonia to name a few. When he's not performing on the stage, he has a love for working with Hollywood actors on how to play the violin, conduct and write music on the screen. Ronald has been heard in festivals throughout the world from the Ghent Festival, Edinburgh International Festival, Eastern Music Festival, Cambridge Music Festival, Wimbledon Music Festival, and London's BBC Proms. 
Ronald graduated from the Manhattan School of Music studying with Pinchas Zukerman's assistant Patinka Kopec and spent a year of Masters at the Paris Conservatoire studying with Boris and Daniel Garlitsky.
Ronald hopes to continue his career in chamber music, teaching and inspiring other young musicians.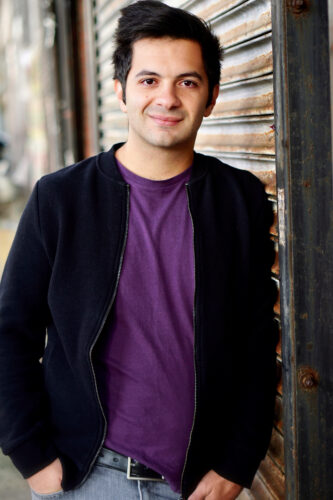 Alex Petti (songwriting)
Alex Petti is a Lebanese Irish-Catholic writer from Massachusetts who grew up as a pop punk rocker. Though his dreams of headlining Warped Tour have ended, the energy of the genre still infuses his music. His show, The Trouble With Dead Boyfriends (music and lyrics) was produced at Carnegie Mellon in Pittsburgh (2016), won Best in Fest at Premiere Premieres! at MCL Chicago (2017), won Best Score at SheNYC at the Connelly Theater (2018), and was workshopped at Berklee School of Music in Boston (2019). Alex was commissioned by CPA Theatricals to write and record music for Girlhood: The Musical, which premiered at the Bravo Performing Arts Center (2019). He has been a host at a Musical Theater Factory Salon in March 2021 and was invited to showcase songs from his musical, Alex Petti and The Nervous Rex Present The Hometown Tour, at Musical Theater Factory in the 2021-2022 season. Alex also leads the New York based rock band 'good thoughts' who released their debut EP 'For Hard Times/From Hard Times' in October 2021.
Alex is a proud graduate of Carnegie Mellon University, a member of the BMI Advanced Musical Theater Workshop, and a proud Dad to his cat, Sonia.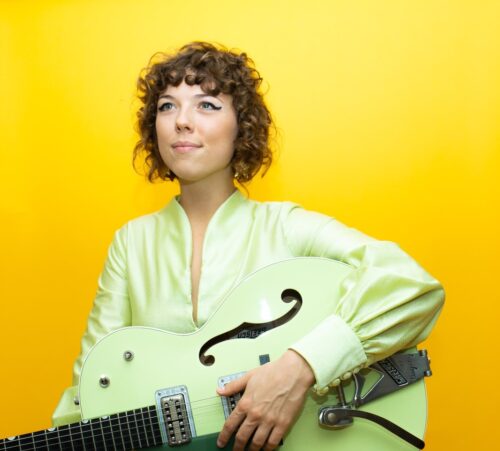 Kaycie Satterfield (guitar)
Kaycie Satterfield is an established singer-songwriter, guitarist, vocalist and bassist. Growing up in Austin, Texas, she cut her teeth performing festivals around Texas with several Western Swing outfits. She was involved in choir and rock bands from a very young age, and also competed in songwriting competitions in central Texas including Old Settler's Music Festival. Kaycie attended Belmont University in Nashville, Tennessee, where she earned a Bachelor of Music in Commercial Music with a voice principle and an emphasis in composition and arranging. During her time at Belmont, she sang in Belmont Chamber Singers, a chamber vocal ensemble, and Jazzmin, Downbeat award-winning jazz vocal ensemble. She was also part of indie-rock group The Reckless Charms, whom were chosen for a live audition in Los Angeles for America's Got Talent in 2015. Her senior year, she was chosen as one of four finalists in Belmont School of Music's 25th Commercial Showcase. She taught at Southern Girls Rock and Roll Camp every summer. After graduation, she spent a season as the house guitarist at the world-famous Grand Hotel on Mackinac Island, Michigan. She then performed locally in Nashville, including as a house band member for She's A Rebel: A Girl Group Tribute Show before moving to New York. There she began working as a singer-songwriter, performer, session and live musician for artists such as Madame Gandhi, as well as songwriter and music educator. She is currently working on her debut album.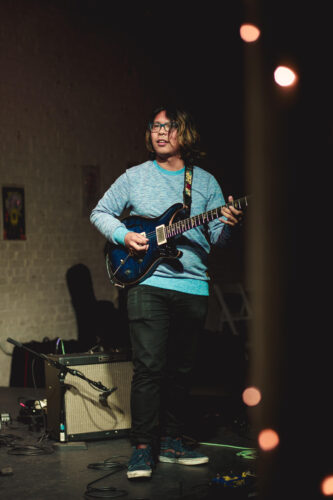 Prawit Siriwat (guitar)
Brooklyn based guitarist and composer, Prawit Siriwat, explores spontaneous creativity with tactile sonic textures and virtuosic musicianship. Whether it is through simple yet natural beauty of acoustic strings or the bloopy-bloop filled electro-sonic worlds, he has a meditative approach to creating his musical pallet.

Siriwat's solo releases ("Aquarium Sounds" and "Nest") document his improvised sound art practice as he uses a combination of acoustic and electronic materials to shape a sonic environment. His newest work, "All My Friends Are Sleepy," set for release in 2021, plays with how we experience dreams viscerally.

The prolific guitarist is also planning to record a book songs for his jazz-rock power trio, inspired by musicians like Oz Noy, Adam Rogers, and Wayne Krantz. Siriwat writes open form pieces with angular melodies and ambient soundscapes that create space for the musicians to interact directly with the audience and environment.

As a sideman, Siriwat's attention to subtle sonic detail has made him indispensable for songwriters and band leaders. He has performed, recorded, and toured with artists like Bobby Previte, RVBY MY DEAR, Bianca Muñiz, Ruby Greenberg, Jo-B Sebastian, Colin Hinton, and many others in the contemporary and creative music scenes.  In 2020,  he started working with the NowNet Arts Lab Ensemble, an organization that researches technologies as well as performance approaches to network arts, under the direction of Sarah Weaver.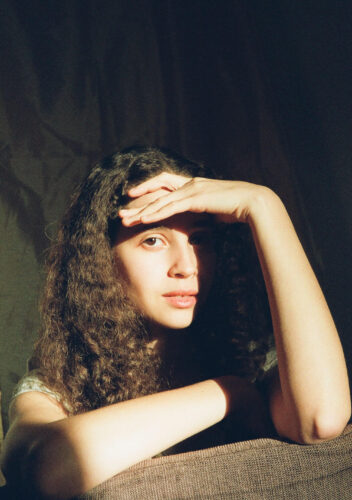 Rose Stoller (ukulele)
Rose Stoller is an NYC-based multidisciplinary artist. She merges her influence of contemporary jazz, r&b, the Laurel Canyon folk rock scene, Brazilian music, and ambient soundscapes into a corner of her own. Rose has worked as an actor and collaborator in various theatrical productions, both with her co-created production company, Rascal Arts, and with a variety of other organizations nationwide. Recent involvement includes The Atlantic Center for the Arts (New Smyrna Beach, Florida) and The Puzzle Festival of New Works (NYC).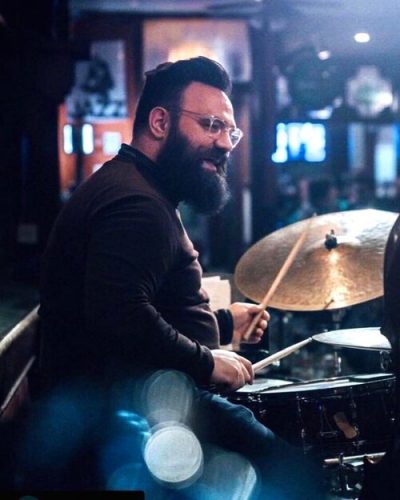 Colin Stranahan (drums)
Born In Denver, Colorado, and the son of a Jazz Educator, Colin Stranahan has always been surrounded by music. By his teenage years he was already actively working on the local Denver scene, and has recorded multiple records of Capri Records. After receiving the prestigious NFAA Presidential Scholar award in 2005 , he studied in California for one year as a Brubeck Institute Fellow. Shortly there after he attended the prestigious Monk Institute of Jazz. Stranahan was also one of the winners of the 2012 Thelonious Monk Drum Competition. Now living in Brooklyn, New York, Colin is among the most sought-after drummers in the world. working with such artist as Kurt Rosenwinkel, Jonathan Kreisberg, Fred Hersch, Terence Blanchard, Dave Kikoski, Kevin Hays, Herbie Hancock, Wayne Shorter and many others. He also now is part of a collective trio featuring some of the most talented and praised you musicians in New York City. Rick Rosato on bass and Glenn Zaleski on piano. Together they are the Stranahan/Zaleski/Rosato trio. They have recorded 2 albums that have been very successful and a third on the way which was recorded Live at Smalls which is scheduled to be released in 2015. . Colin Stranahan currently holds teaching positions at a couple of different conservatories in Europe, where he teaches both private lessons, and ensemble teaching. Aarhus Royal Academy of Music, and London's Royal Academy of Music. Colin also has started teaching at a few summer Jazz programs including The Brubeck Institute Summer Jazz Colony, and The Fara Sabina Summer Jazz school and Festival in Fara Sabina, Italy. Colin also has been giving drum master classes all over the world. Some of these recently have included, Oberlin Collage, New England Conservatory, International Jazz Conference in Thailand, and at the Singapore Esplanade Jazz Festival.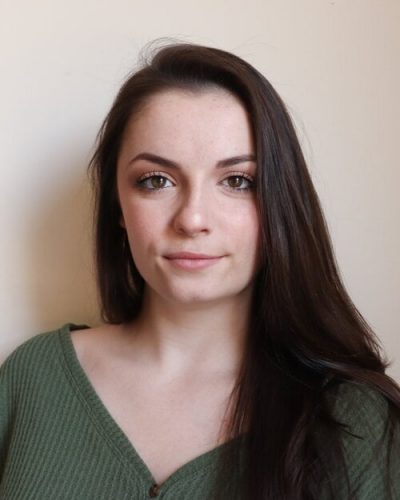 Claire-Frances Sullivan (musical theatre)
New York City based and rural Michigan bred, Claire-Frances is an actor, singer, musician, composer/lyricist, and playwright. She graduated from Central Michigan University with a BFA in Musical Theatre Performance. Claire-Frances has most recently performed in New York City with the Signature Theatre Company, TheaterLab, and in various cabaret settings.
Claire-Frances is an internationally produced and award-winning playwright with work produced by and/or developed at the Powerhouse Theater, Midland Center for the Arts, TACT studios, The Pulp Stage Theatre Company, Festival 56, and the Bread and Roses Theater. She is a member of the Dramatists Guild, the Playwright's Center of Minneapolis, and is a lyricist with the BMI Lehman Engel Musical Theatre Workshop. Claire-Frances's original musical, Fostered Love, was the recipient of the Kennedy Center's National Musical Theatre award through the Michael Kanin Playwriting Awards in 2018. Her work includes short plays, full-length plays, song cycles, and full-length musicals with original book, music, and lyrics.
Whatever the medium, Claire-Frances is dedicated to being a person and what that means when you get to make art with other people. You may have seen her at the Open Jar Institute for Musical Theater, at the Powerhouse Theater Training Company as a playwriting apprentice, or at the Eugene O'Neill Theater Center in residence as a playwright observer. When she's not making things, Claire-Frances loves playing Stardew Valley, spoiling her two cats, and tending to her family of plants.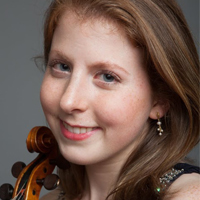 Erica Tursi (violin)
Erica Tursi is a classical violinist that enjoys performing, teaching, and spending time with her cat, Bentley. She has received top prizes at competitions in the United States and in Europe as a founding member of the Omer String Quartet, which include first prize in the Young Concert Artists International auditions, first prize at the Premio Paolo Borciani Competition in Italy, First prize at the Fischoff National Chamber Music Competition and 2nd prize at the Trondheim International Competition in Norway. The quartet has been hailed by the New York Times as "glowing and vividly dramatic."
Erica received a Masters of Music at The Juilliard School, a Bachelors of Music from the Cleveland Institute of Music as well as Suzuki certification (books 1-10 and pre-twinkle), and a Graduate Diploma from The New England Conservatory of Music. She has held a private teaching studio for over 8 years, and she has experience teaching in the New England Conservatory Prep program as well as undergraduate chamber music students at Yale University and the University of Maryland. In addition to being a teacher at MMC, she is currently leading virtual masterclasses in the Harmony Program, based in NYC and teaches at the Bronx School for Music.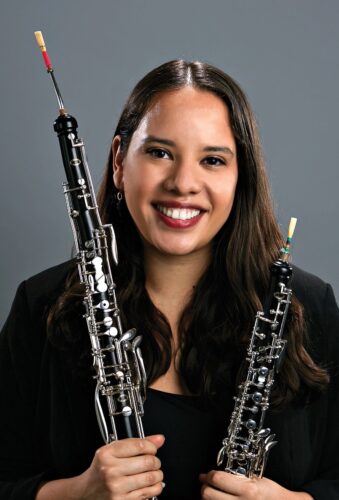 Tamara Winston (oboe)
Paraguayan/American oboist TAMARA BENITEZ WINSTON is the acting English Horn/Oboe of the Nashville Symphony Orchestra. As a recent alum of Carnegie Hall's Ensemble Connect, Tamara enjoys a busy orchestral career and performs regularly with the Metropolitan Opera Orchestra, the New York City Ballet, the Baltimore Symphony Orchestra, the St. Louis Symphony Orchestra, and the Montclair Orchestra. She is a founding member of the NYC based woodwind quintet, ConnectFive.
As a teaching artist, Tamara is passionate about sharing music with a wide range of audiences and promoting inclusivity in arts education. As part of her Ensemble Connect fellowship, Tamara created and performed numerous interactive performances for communities throughout New York and abroad. She is on the oboe faculty at the Conservatory of Music at Brooklyn College.
This past summer, she performed at the Grand Teton Music Festival. During previous summers, she has attended Classical Tahoe, The Aspen Music Festival, the Spoleto Festival USA, National Symphony Orchestra Summer Institute, Brevard Music Center, and the Eastern Music Festival where she won the concerto competition performing the Kalliwoda Concertino.
Tamara holds a bachelor's degree from The Juilliard School and a master's degree from Mannes School of Music. She has studied with Nathan Hughes and Elaine Douvas. Other primary teachers include Richard Dallessio, Jelena Dirks, and Linda Strommen.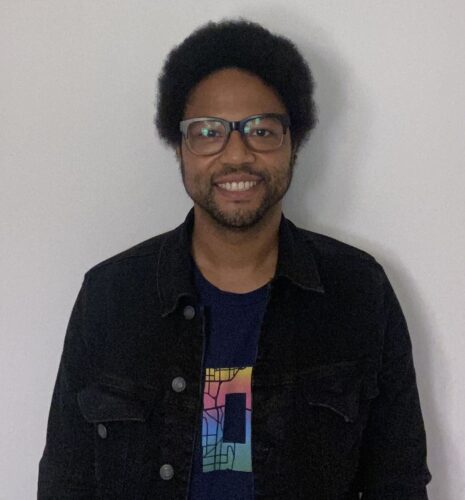 Carter Yasutake (trumpet)
Carter Yasutake is a professional musician with over 15 years of experience as a performer. He attended the New School and studied with musicians such as Jimmy Owens, Cecil Bridgewater, Eddie Henderson, Bobby Sanabria, Billy Harper & Ahmed Abdullah. All of whom would be integral in shaping his musical and teaching philosophy.
Since moving to New York city in 2002, Carter has performed with such notable acts as Irving Street Repertory, LCD Soundsystem, Macklemore, David Byrne & St. Vincent. He is currently working with Brooklyn-based bands: Midnight Magic, Underground System, Living Language, and the Great Long Meadow Fire.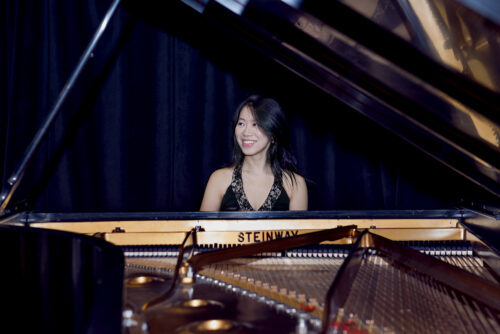 Sophia Zhou (piano)
New-York-based pianist Shuhui (Sophia) Zhou has been performing as a soloist and chamber musician internationally in the Royal Concertgebouw in Amsterdam, Carnegie Weil Concert Hall, the National Sawdust in New York City, Kennedy Center in Washington D.C., Shanghai Concert Hall, etc. She is the winner of the V BPA International Piano Award of Barcelona and completed a critically acclaimed concert tour across Spain.
As an avid collaborative musician, her recital partners include members of New York Philharmonic, Berlin Philharmonic Orchestra, the Metropolitan Opera House, HK Philharmonic Orchestra and Shanghai Symphony Orchestra.
Sophia is passionate about music across genres and styles. She has recorded and premiered works by living composers such as Thomas ades, Benjamin Broeming, and Alexander Goehr.  She has worked extensively as a vocal pianist with Brooklyn Art Song Society, Mannes Opera, Bare Opera, Classical Lyrical Arts in Italy, to name a few. She was a fellow with Bach Institute in 2016, and performs with Emmanuel Music in Boston and Mannes Baroque Ensemble in New York City on harpsichord and chamber organ.
Born and raised in Shanghai, Sophia was offered full scholarship by Oberlin College as the first double-degree Bachelor student from China, majoring in Piano Performance and German literature.  She continued her studies in Vienna, Austria with Dr. Jan Jiracek von Arnim in University of Music and Performing Arts, as well as musicology with Dr. Morten Solvic, renowned Mahler scholar based in Vienna. Sophia frequently performs and further her studies in European summer festivals, working with renowned pianists and pedagogues from Germany, England, France, Italy and Spain.
Sophia is currently a graduate fellow in Bard Conservatory of Music, assisting the Graduate Vocal Program and serving as a secondary piano instructor. She has been on faculty staff in Wilton Music Studios in Wilton, CT and Hoff-Barthelson Music School in Scarsdale, NY. She enjoys working with students ranging from absolute beginner to young professionals, as well as whoever wants to explore the joy of music and the art of piano playing.
In her spare time, Sophia loves practicing yoga, listening to French chansons, programming new concert ideas, and working on a translation project of Jan Swafford's Brahms biography from English to Chinese, to be published in 2025.