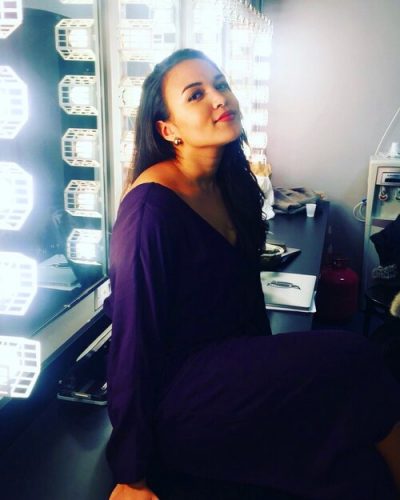 Mikaela Bennett (voice, theatre)
Mikaela is a graduate of The Juilliard School and is celebrated as a singer and actress for her work on stage and in the concert hall. She most recently appeared as a featured soloist with the Los Angeles Philharmonic under Gustavo Dudamel performing 'Aurora' written by Wayne Shorter. In 2019 Mikaela was honored by Lincoln Center with a 'Lincoln Center Award for Emerging Artists'. In May 2019 Mikaela made her critically acclaimed debut at Lyric Opera of Chicago playing 'Maria' in Lyric's production of West Side Story. In July 2019 Mikaela starred in the title role in Rodgers & Hammerstein's "Cinderella" at the MUNY and in August 2019 Mikaela returned to the BBC Proms with the John Wilson Orchestra performing music from the Warner Bros film studio which was broadcast live on British television. In November 2019 she sang the role of Mary Wintergreen in MasterVoices' concert production of Gershwin's Let 'Em Eat Cake at Carnegie Hall.
On stage, Mikaela made her professional debut starring as Penelope in The Golden Apple at City Center Encores! Mikaela originated the role of Norma in Dick Scanlan and Carmel Dean's new musical Renascence in New York City and at the 2018 Prototype Festival she originated the title role of Acquanetta in a new opera composed by Michael Gordon and directed by Daniel Fish.
In the concert hall Mikaela has made her debuts with some of the world's leading orchestras and foremost conductors in America and the United Kingdom. In August 2018 Mikaela made her BBC Proms debut at London's Royal Albert Hall starring as Maria in the John Wilson Orchestra's concert production of West Side Story to-critical and public acclaim. She has made her debuts with the New York Philharmonic conducted by Leonard Slatkin and the Philadelphia Orchestra under Yannick Nézet-Séguin. Mikaela performed as a featured soloist in Bernstein on Broadway as part of the Leonard Bernstein 2018 centennial celebrations at the Kennedy Center directed by Kathleen Marshall and conducted by Rob Fisher. Mikaela has collaborated multiple times with conductor Ted Sperling, most recently at Carnegie Hall performing Gershwin, and also as the soprano soloist in Händel's Israel in Egypt with MasterVoices and Orchestra of St Luke's. She has appeared with the San Francisco Symphony, Los Angeles Philharmonic and New World Symphony, conducted by Michael Tilson Thomas, for the world premiere of his work, Four Preludes on Playthings of the Wind. Mikaela has performed in New York City's prestigious cabaret venues including Joe's Pub at the Public and solo concerts at Feinstein's 54 below. Mikaela is a native of Ottawa, Canada.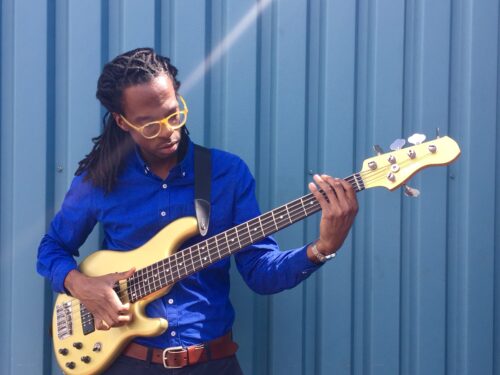 Leon Boykins (bass)
Leon Boykins has developed a reputation for tastefully blending musical tradition with innovation. With several studio projects and countless worldwide performances under his belt, Leon is an established figure in the next generation of creative musicians. During his time in New York City he has shared the stage with many musical greats including Terell Stafford, Ravi Coltrane, Questlove, Orrin Evans, Donny McCaslin, Gilad Heckselman, Pascal Le Boeuf, Allan Harris, The O'Jays and John Swana. As an in demand sideman Leon prides himself in interpreting the artistic vision of each artist that he makes music with.
Placing a large emphasis on education Leon holds a B.M (07) from Temple University, a M.M (11) from the Manhattan School of Music and a M.Ed (16)  from Hunter College. Currently Leon is living in Pittsburgh PA while working as the bassist for the Dear Evan Hansen National Tour.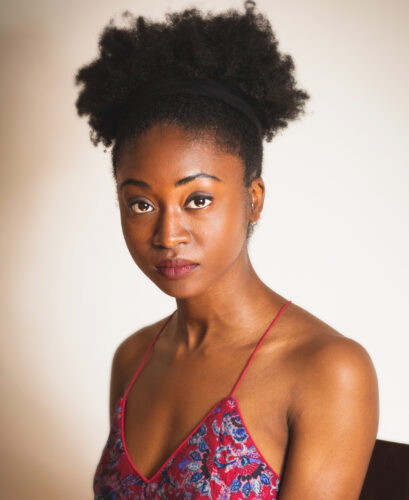 Emma Claye (songwriting)
Emma Claye is a professional actress, singer, and songwriter based in New York City. Prior to pursuing her passion for the performing arts, Emma earned a Bachelor of Science degree from University of Maryland, College Park (Go Terps!) and Master of Public Health from Yale University. As an actress, Emma has performed in various theatrical productions in addition to television and film. She's studied at The New York Film Academy, Stella Adler Studio of Acting, and currently trains under Anthony Abeson. As a vocalist, Emma has performed at various venues from the Kennedy Center to Rockwood Music Hall. In addition to performing, she is also a songwriter and released her first EP "Arts and Sciences", a compilation of original pop-soul and R&B songs, in 2014. She also released her single entitled "I Imagine Love" in 2019 and most recently "I Love You" in 2021 on all major streaming platforms. She is currently songwriting for two up and coming artists and recording music for her next EP.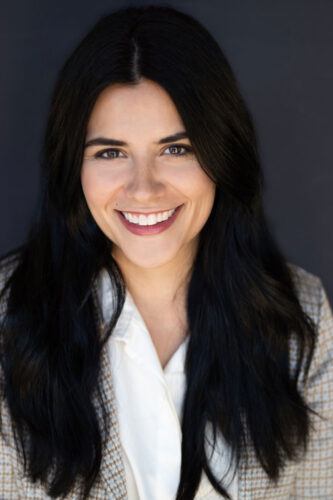 Taylor Dupuis (voice)
Taylor Dupuis is a singer, songwriter, and performer based in Nashville, TN. She began singing at the age of eight. Over the years she has been in and out of voice lessons and studied vocal performance at Columbia College Chicago.
Taylor has been active in the music industry for 10 years, writing songs, recording, and going on tour across the U.S. as the front woman for the rock band Roanoke. Her music has been featured in publications such as American Songwriter, No Depression, The Huffington Post, The Tennessean, and PopMatters.
Taylor is passionate about all things music, and is dedicated to bringing her expertise, enthusiasm, and passion to each lesson.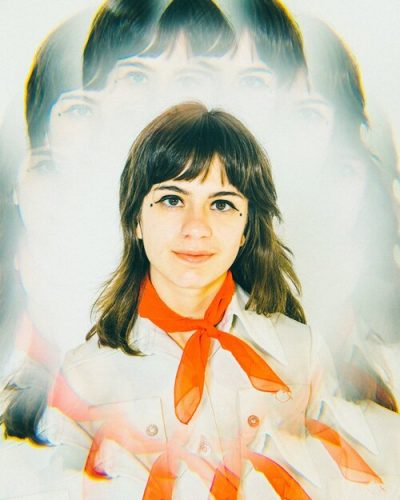 Kate Derringer (bass, computer music/Abelton, music production)
Kate is a bassist and audio engineer based in metro Detroit. Kate has been heavily involved in Detroit's rock scene for several years, currently a member of Shadow Show, and previously in Deadly Vipers. In addition to playing bass and singing in Shadow Show, she engineers and mixes all of their music. Kate has digital and analog recording experience from several notable studios, including Rick Rubin's Shangri-La Studio in Malibu, High Bias Recordings in Detroit, University of Michigan's recording studios, and Solid Sound Studios in Ann Arbor. Kate holds a BFA in media arts from the University of Michigan.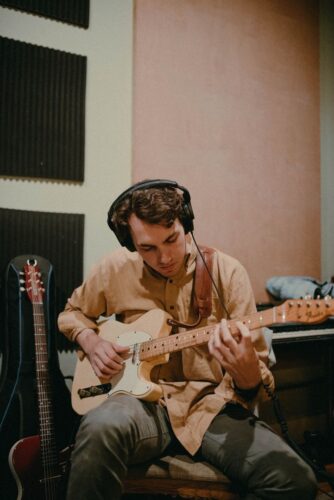 Luke Enyeart (guitar)
Luke is a guitarist/singer-songwriter and composer based in Minneapolis, MN. He primarily performs as a lead guitarist/session musician for artists like Ryan Bingham, Chastity Brown, Ani DiFranco, Yola, Katie Pruitt, and several others. He has played at historic venues such as Red Rocks, The Ryman, and many others. He is a multi-disciplinary musician who feels comfortable in most genres and shines in any "Groove Based" style.  He has been performing and touring professionally for almost 10 years and discovered the joy of teaching at the beginning of the pandemic.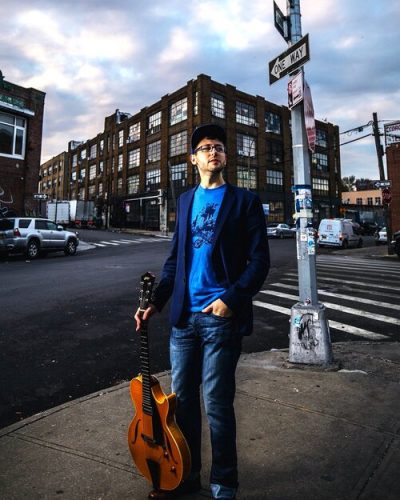 Alex Goodman (guitar, jazz composition)
Winner of first prize and the Public's Choice Award at the 2014 Montreux Jazz Festival International Guitar Competition, Alex Goodman has been hailed as "a definite musical voice" (Guitar International), and as a player of "fluid lyricism" (Downbeat), "dazzling improvisational dexterity and engagingly smart composition (New York City Jazz Record). His quintet LP Bridges, released in 2011, was nominated for a Juno Award, Canada's top recording honor, as the year's best contemporary jazz album.
In his time on the New York scene, he has played at all the city's top jazz clubs, including the Jazz Standard, Blue Note, Smalls and Jazz Gallery, as well as at such venues as Lincoln Center and National Sawdust. The guitarist has also performed at the Kennedy Center in Washington, D.C., and Massey Hall in Toronto as well as at such festivals as Winter Jazz Fest in New York, the Montreux Jazz Festival, the Montreal Jazz Festival and further afield in China, Ukraine and Bulgaria.
In addition to his seven albums as leader or co-leader, Goodman is featured on recordings with such artists as John Patitucci, Dick Oatts, Joel Frahm, and Rich Perry. In addition to having performed with musicians like Charles Lloyd, Eric Harland and Ari Hoenig, the guitarist plays regularly in ensembles led by Manuel Valera, Lucas Pino, Mareike Wiening, Martina DaSilva, Roxy Coss and Remy Le Boeuf, among many others. Goodman has won an ASCAP Herb Albert Jazz Composer Award, and he has composed and recorded a book of solo guitar etudes, along with writing scores for jazz and chamber groups, orchestra, big band and string quintet. He is a graduate of the Master's program in Jazz Performance at the Manhattan School of Music.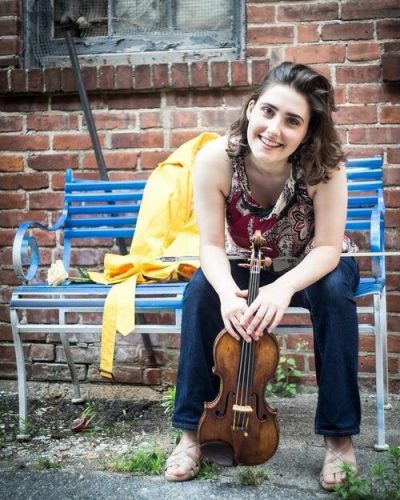 Gergana Haralampieva (violin)
Gergana is a Bulgarian-American violinist who is a passionate chamber musician and educator. Born into a family of music teachers, Gergana began singing in her father's children's choir at the age of three and playing the violin at the age of six. Although she was born in Bulgaria, she spent her whole childhood living in the Czech Republic where her parents worked and in 2005 moved to Massachusetts after her dad won the Diversity Immigrant Visa lottery. After moving to Massachusetts, Gergana continued her violin studies at the New England Conservatory's Preparatory School and later attended the Walnut Hill School for the Arts. Upon her graduation from the Walnut Hill School, she moved to Philadelphia to pursue her Bachelor's Degree at the Curtis Institute of Music where she studied with Ida Kavafian and Pamela Frank. In 2016, she moved back to the Boston area to complete a Masters Degree from the New England Conservatory under the tutelage of Paul Biss and Miriam Fried.
Gergana is currently a member of Ensemble Connect at Carnegie Hall which is a two year fellowship for young professionals who want to expand their experience in teaching, community engagement, advocacy, entrepreneurship, and leadership. She is also the co-founder and co-director of Long Island Chamber Music (LICM). LICM presents engaging chamber music performances and community engagement events of the highest caliber that are specifically tailored to celebrating the history and culture of Long Island.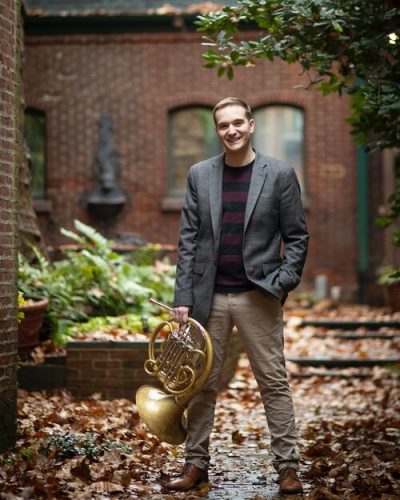 Eric Huckins (horn, all brass)
Hailed for his "sparkling, crystal clear sound" (Brass Legacy) New York based french horn player Eric Huckins is dedicated to creatively sharing music through diverse musical styles. A winner of Astral Artist's 2018 National Auditions, Eric is the first horn player to be a part of their roster.
As a chamber musician, Eric has been a founding member of multiple groups including The Brass Project and Tangent Winds and a prize winner at The Fischoff Competition. He has toured the United States extensively with Frisson Ensemble and The Rodney Marsalis Philadelphia Big Brass. Eric has been a featured artist at various chamber music festivals including Music from Angel Fire, Ostrava Days, and Cape Cod Music Festival.
Passionate about expanding repertoire for the horn, Eric regularly commissions and premiers new works for horn as a solo instrument and in chamber settings. Alongside composer Nick DiBerardino and The Brass Project, Eric curated an initiative, called "Cityscaping," generating thirty-five new pieces of engaging civic music for outdoor performance, including works by Pulitzer Prize winner Aaron Jay Kernis, Rome Prize winner Sean Friar, and Princeton Professor Emeritus Paul Lansky. Praised as "great fun" by the Philadelphia Inquirer, the project culminated in new music concerts in dozens of schools, public spaces, and non-traditional concert venues. Eric's anticipated debut album 'Drifter' (release date TBA) is a collection of new works for horn by Eric and 9 other young composers.
In orchestral settings, Eric is currently Principal Horn of Symphony in C and has appeared with orchestras throughout the United States and internationally such as American Ballet Theater, The Netanya Kibbutz Chamber Orchestra, and The Philadelphia Orchestra. On natural horn participating in historically informed ensembles, Eric has performed with Clarion Music Society and Teatro Nuovo Opera Orchestra.
A committed teacher, Eric is horn faculty at the Mahanaim School on Long Island and is a regular brass clinician at Fordham's Lincoln Center Campus and works regularly around the country as a clinician including a masterclass on brass and electronic music at The Juilliard school in October, 2018. Eric has been in residence at Navajo Technical University with The Heartbeat Project, working with students from Kindergarten through 12th grade on composition and improvisation.
A community builder, Eric is a Co-Founder and the Artistic Coordinator of The Arts at Blessed Sacrament, an arts series based in New York City which featured the work of young artists through chamber music, orchestral concerts, dance, and art installations at the Church of the Blessed Sacrament. In 2015, Eric revived the band program at South Philadelphia High School through his Community Artist Project at the Curtis Institute of Music which is now continued through Curtis' Community Artist Fellow program. Eric is looking forward to an upcoming project with the Aquinas Center in Philadelphia building "Stories of Home" through musical mediums.
Eric received his Bachelor's Degree from Curtis Institute of Music and his Master's degree from The Juilliard School. Outside of his musical life, Eric enjoys spending time with his Fiancé and violinist, Gergana and is an avid guacamole enthusiast.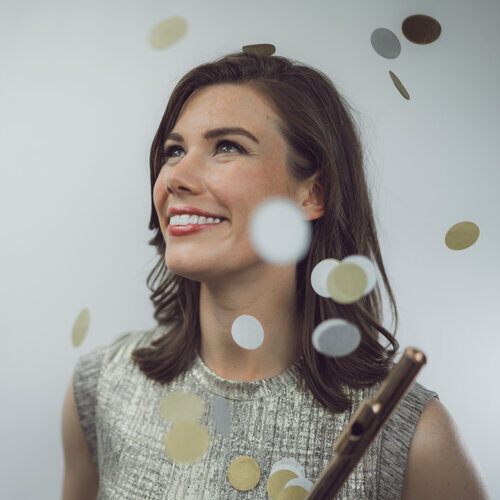 Chelsea Knox (flute)
Chelsea Knox is the principal flutist of the Metropolitan Opera Orchestra. A sought-after performer, Ms. Knox has held positions as assistant principal flute of the Baltimore Symphony and principal Flute of the New Haven and Princeton Symphonies. She has been hailed by the New York Times for her warmth, precision, and clarity, as well as by the New York Classical Review for her "expressive life and full tone."
An active orchestral and chamber musician, Ms. Knox has appeared with numerous orchestras including the Seattle Symphony, Vancouver Symphony, San Diego Symphony, and IRIS Orchestra. As a soloist, Ms. Knox has performed concertos with the Baltimore Symphony, Hartford Symphony, Princeton Symphony, and Manchester Symphony. She has won competitions including the New York Flute Club Young Artists Competition and the Hartford Symphony Young Artists Competition.
Ms. Knox earned both her bachelor's and master's degrees from the Juilliard School in New York City as a student of Jeffrey Khaner. A native of Litchfield, CT, she received her early training at the Hartt School of Music, where she studied with Greig Shearer. In her spare time she is an active visual artist and her work has been displayed in galleries in New York and Connecticut.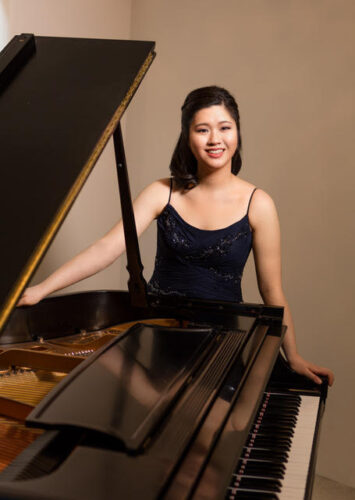 Jocelyn Lai (piano)
Passionate about performing and teaching, Jocelyn Lai is an experienced and versatile classical pianist and educator. As a concert artist, she has performed at festivals across Canada, the United States, and Spain, in prestigious venues such as the Weill Recital Hall at Carnegie, Chan Center for the Performing Arts in Vancouver, and Paul Hall at the Juilliard School. Recent performance highlights include a solo concert in the Montreal Chamber Music Festival at the Salle Bourgie, a featured faculty recital at Hunter College, and performances at the 2019 Hilton Head and West Virginia University International Competitions.
With many years of competition experience, she has garnered distinctions on national and international stages, most recently winning the 2016 CIM Concerto and the 2014 American Protégé International Competitions, and capturing second prize in the 2016 Shean National and 2012 Knigge National Competitions. Born and raised in Vancouver, British Columbia, she was a laureate at the Canadian Music Competition, and BC Provincial National Class.
During summer months, Jocelyn has worked with distinguished pedagogues including Anton Kuerti, Robert McDonald, Robert Levin, Yoheved Kaplinsky, and Claudio Martinez-Mehner as a participant in festivals and academies such as Banff, Aspen, Orford, and Gijon.
As an educator, Jocelyn taught classes in music theory while on the faculty of Hunter College (New York), guided children through private piano instruction at the Nord Anglia International School, and has years of experience teaching secondary piano in the college division at the Juilliard School. Furthermore, she has given presentations through education outreach programs in Vancouver, New York, Cleveland, and Hilton Head. Moving home from New York since the pandemic, she currently serves on the piano faculty at the Vancouver Academy of Music.
 Jocelyn is a grateful recipient of many prestigious Canadian grants from the BC Arts Council, Koerner Foundation, and Hnatyshyn Foundation, enabling her to pursue advanced music degrees. She holds a Bachelor of Music from the UBC School of Music, Master of Music from the Juilliard School, and an Artist Diploma from the Cleveland Institute of Music. Currently, she is a doctoral candidate at the City University of New York Graduate Center. Her musical inspiration and guidance come from her teachers: Jane Coop, HaeSun Paik, and Julian Martin.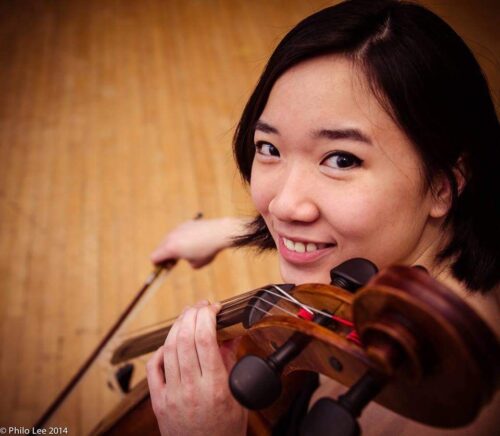 Yu Yu Liu (cello)
Taiwanese cellist Yu Yu Liu is an active chamber musician who regularly gives concerts throughout New York City with her pianist and partner, Luis Ortiz. She holds a master's degree and bachelor's degree from The Juilliard School under the guidance of Astrid Schween and Fred Sherry. She also recently received a degree in Orchestral Performance from Manhattan School of Music under the guidance of Qiang Tu. As an orchestral player, Ms. Liu has held the principal position in Ensemble 212 since 2016. She has worked under the batons of Leonard Slatkin, Semyon Bychkov, and Alan Gilbert in venues such as Carnegie Hall, David Geffen Hall, and Alice Tully Hall. Yu Yu gave the NY premiere of Yoshirō Irino's Three Pieces for Cello Solo (1969). Ms. Liu currently teaches at Musical Mentors where she holds a private studio. She has been invited to several summer programs such as Composers Conference: Contemporary Performance Institute, Interlochen Arts Camp, [email protected], and the Pacific Music Festival in Japan. As a chamber coach, Ms. Liu is a faculty at ArtsAhimsa Chamber Music Festival. Outside of the practice room, Yu Yu enjoys going to the movies and playing with her four cats, Bonnie, Clyde, Ernie, and Rudy.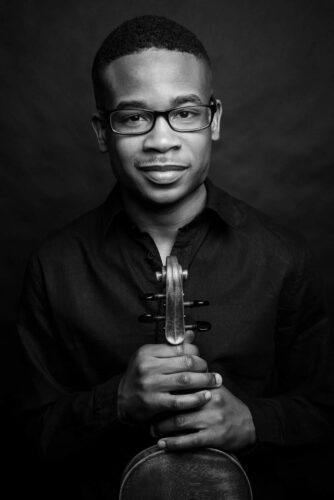 Ronald Long (violin)
American violinist Ronald Long spends most of the year performing with major UK ensembles including the Aurora Orchestra, Welsh National Opera, Chineke! Orchestra and Southbank Sinfonia to name a few. When he's not performing on the stage, he has a love for working with Hollywood actors on how to play the violin, conduct and write music on the screen. Ronald has been heard in festivals throughout the world from the Ghent Festival, Edinburgh International Festival, Eastern Music Festival, Cambridge Music Festival, Wimbledon Music Festival, and London's BBC Proms. 
Ronald graduated from the Manhattan School of Music studying with Pinchas Zukerman's assistant Patinka Kopec and spent a year of Masters at the Paris Conservatoire studying with Boris and Daniel Garlitsky.
Ronald hopes to continue his career in chamber music, teaching and inspiring other young musicians.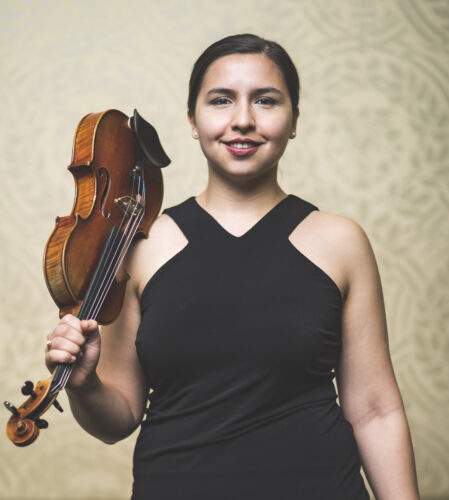 Aurora Mendez (violin)
Violinist Aurora Mendez has performed extensively across Europe, Asia and the Americas. She holds a Performer's Certificate and BM in violin performance from the Cali School of Music MSU under the tutelage of Prof. Mary Ann Mumm. During her studies, she served as concertmaster of the MSU Symphony Orchestra and formed part of the conductor's quintet and Opera Orchestra under Maestro Ken Lam. Aurora is also an alum of the National Youth Orchestra Foundation of Chile where she served as concertmaster of the Metropolitan Youth Orchestra and member of the National Youth Orchestra of Chile. A seasoned orchestral player, Aurora is a member of the New Haven Symphony, Montclair Orchestra, and the Latin Orchestra of Europe. She has participated in selective fellowship programs such as the Orchestra of the Americas, Schleswig-Holstein Musik Festival, Spoleto Festival, Monteux Festival, and the Marrowstone Music Festival. Aurora has also worked with distinguished conductors including David Chan, Semyon Bychkov, Krzysztof Urbánski, Christoph Eschenbach, Carlos Miguel Prieto, Jaime Martin, and Dale Clevenger. As a soloist and chamber player, Aurora has performed alongside members of the MET Opera Orchestra, been coached by members of the Shanghai and Latin American Quartets, and worked with composers such as Jeff Scott and Amy Reich. A passionate advocate for music education and social change, Aurora is a former Orchestra of the Americas Global Leader Fellow and has served as faculty for missions in El Salvador and Chicago. During her studies, Aurora worked with several El-Sistema USA programs such as the Union City Music Project and the NJ El-Sistema Alliance. Currently, Aurora is the Teaching Artist in Residence at SOPAC, and a Teaching Fellow with Music Mentors Collaborative in NYC.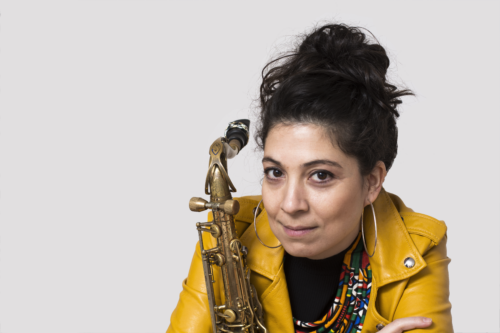 Berta Moreno (saxophone)
Berta Moreno is a multi-awarded Spanish jazz composer, saxophonist and educator.
Currently living and working in New York, she is deeply involved in the Jazz, Latin and World Music scene both as a saxophonist and composer. She has captured the eye of the audience as well as grabbed the attention of U.S. press and jazz critics, being featured in magazines such as Downbeat Magazine, All About Jazz, National Radio and TV of Spain, WBGO among others.
She has been touring as a leader for 7 years, performing in some of the main jazz festivals, venues and theaters both in Europe and U.S. and she has received several grants and awards including Gold Medal for Best Saxophonist 2017 by Global Music Awards, BMI Foundation -Evelyn Buckstein Award, Sidney Zolot Award for excellence in music, 1st prize Zoetemeer Jazz Award and 2nd prize Leidse Jazz Competition.
Her latest album "Little Steps" received critical acclaim and extensive press coverage. The album was awarded a Gold Medal for Best Jazz Album 2017 and was finalist at the IMA Awards for Best Jazz Album and Best Jazz Composition 2018 (U.S.), and at the MIN Awards for Best Jazz Album 2018 (Spain).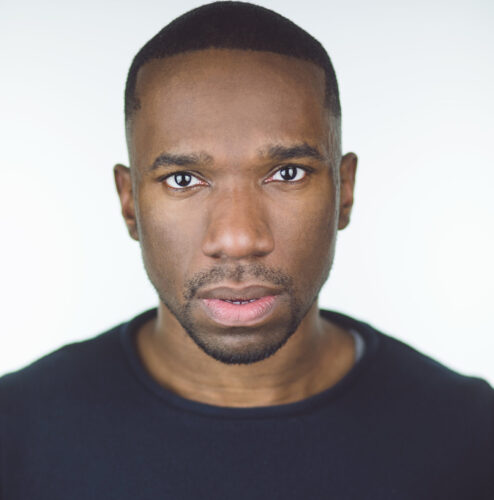 Azudi Onyejekwe (theater)
Azudi is a Brooklyn-based actor, musician, singer-songwriter, educator, and justice advocate. As the last born of six to two incredible Nigerian-born parents who immigrated to America in the 1970s, infectious melodies, soulful basslines, African diasporic rhythms, and a transnational consciousness have permeated his existence for as long as he can remember, leading to a lifelong love affair with music and social consciousness. He received his BFA with honors from New York University's Tisch School of the Arts, with a double major in Theatre and Africana Studies. And is currently on the acting faculty of the Molloy College/CAP21 BFA Program, in addition to being a vocal coach for Voice Academy NYC.
As an actor, Azudi has performed in over a dozen productions on Broadway, Off-Broadway, and at multiple Tony award-winning regional theatres across the country including the Guthrie Theatre, Williamstown Theater Festival, and the American Repertory Theater. He is a member of the original Broadway casts of the critically acclaimed musicals "Natasha, Pierre and the Great Comet of 1812" and "Violet" (where he was the standby for the role of Flick opposite 2-time Tony Award winner Sutton Foster). His TV/Film credits include "Madam Secretary" and HairBrained. And he recently made his LA Philharmonic debut as a featured soloist in "Bernstein's MASS" under Gustavo Dudamel.
With a voice praised by Millennium Magazine as a "powerhouse" and lauded by BroadwayWorld as "vocally thrilling," Azudi has been blessed to have performed at various eclectic venues as a singer and singer-songwriter all over New York City; including 54 Below, Joe's Pub, The Shrine in Harlem, Pete's Candy Store, The Recoup Lounge, The Parkside Lounge, and Carnegie Hall. And as a writer and justice advocate, Azudi's most recent essay in which he penned for The Theatre Times in the wake of the murder of George Floyd ("The Dangers of Optical Illusionary Performative Activism"), was recently translated and republished for Korean Theatre Journal, the official association of the Korean Association of Theatre Critics. Azudi is currently in the studio working on his yet-to-be-titled EP.
www.azudi.net | @iamazudi | Nwanne m Nwoke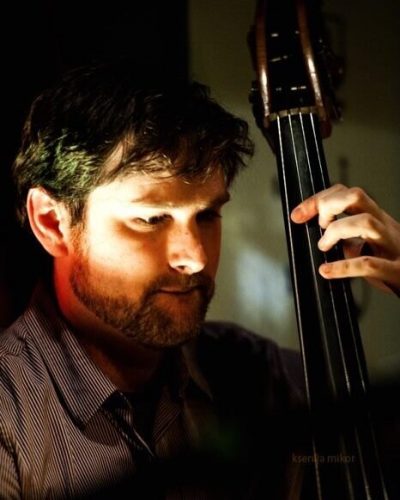 Edward Perez (bass, composition)
Edward Perez resides in the cultural crossroads of Queens, New York, where he leads parallel careers as a composer, arranger, and bassist. His works have been performed by the likes of The Silkroad Ensemble, Yo-Yo Ma, Alan Gilbert, Galician gaita powerhouse Cristina Pato, Latin-jazz legend Ignacio Berroa, Latin-grammy nominated Peruvian singer Jorge Pardo, and oud phenom Kenan Adnawi. His music has been played in venues ranging from the smallest nightclubs in New York to the Kennedy Center, David Geffen Hall at Lincoln Center, Massey Hall, Chicago Symphony Center, El Gran Teatro Nacional de Lima, Damascus Opera House, and Boston Symphony Hall.
Perez began his career as a jazz bassist, but quickly branched out to Latin-Jazz and traditional styles from Peru, Colombia, Brazil, and other parts of South America. He spent his collegiate years at Harvard University, earning a math degree while cutting his teeth in the local jazz clubs in Boston. Afterwards, Perez enjoyed a two year stint in Lima, Peru where he performed with the foremost Afro-Pervuian musicians including Grammy winners Eva Ayllón and Juan Medrano Cotito as well as venerated greats of the older generation such as Oscar Avilés and Julio "Chocolate" Algendones.
Perez later returned to the US in order to establish a home base in New York and pursue his interests in modern jazz. Hailed by Jazz Times for his "great dexterity," Perez has toured through more than 20 countries sharing the stage with jazz luminaries such as Lee Konitz, Greg Osby, Seamus Blake, Lionel Loueke, Kenny Werner, Jason Palmer, and also Latin jazz powerhouses Paquito D'Rivera, Ignacio Berroa, and Arturo O'Farrill. His numerous recording credits on bass include the Grammy-nominated Latin jazz album "Second Chance" by Hector Martignon.
Also active as an educator, Perez has taught privately for The New School of Jazz and Contemporary Music and has held ongoing teaching positions for the Queens College Center for Preparatory Studies in Music as well as the Symphony Space Curriculum Arts Project. In the summers he teaches at Silkroad's Global Musician Workshop and has given masterclasses to bassists and improvisors on all instruments in a host of countries around the globe.
Currently, Perez co-leads the Terraza Big Band, an 18 piece jazz group which some of the strongest up-and-coming players on the New York scene gather together to play original works by co-leaders Edward Perez and Michael Thomas, which run the gamut from modern jazz to styles from Latin America. As a bassist, Perez still remains firmly rooted in jazz improvisation, but continues to play a myriad of musical styles with a variety of groups, always remaining open to allowing the influences from these collaborations to influence his compositional style.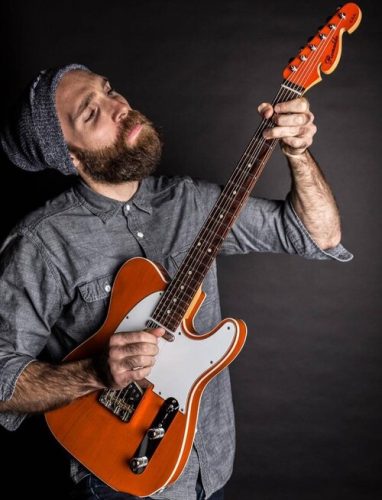 Jordan Peters (guitar, music production)
Jordan is a Brooklyn based guitarist and producer whose influences range from jazz, hip-hop, blues, folk, rock, funk, soul and electronic music. Originally from Lachute Québec, he has a degree in Jazz Guitar Performance from McGill University's Schulich School of Music. In 2011, he attend the Banff International Jazz Workshop led by trumpeter Dave Douglas. He currently lives in Brooklyn, New York, where his time is split between recording, producing, touring and teaching. He has worked, toured, performed and recorded with numerous artists such as Lauryn Hill, Renée Elise Goldsberry, Jon Batiste, The Weeknd, NAS, Billy Porter, Quiñ, The Roots, Andra Day, Antonio Sanchez, Tony Allen, Femi Kuti, Darlene Love, Bokanté, Alex Clare, Renee Neufville, Becca Stevens, AHI, Vassy, Malika Tirolien, Elise Testone, Thana Alexa, Sarah Elizabeth Charles and Linda Briceno. He has appeared on the Tonight Show, NPR Tiny Desks, Austin City Limits, The View, CBS This Morning, NBC's Annual Christmas Tree Lighting, and BET Black Girls Rock.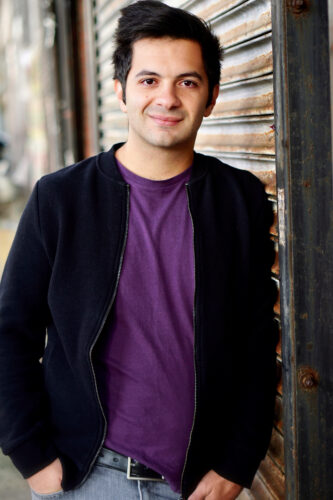 Alex Petti (songwriting)
Alex Petti is a Lebanese Irish-Catholic writer from Massachusetts who grew up as a pop punk rocker. Though his dreams of headlining Warped Tour have ended, the energy of the genre still infuses his music. His show, The Trouble With Dead Boyfriends (music and lyrics) was produced at Carnegie Mellon in Pittsburgh (2016), won Best in Fest at Premiere Premieres! at MCL Chicago (2017), won Best Score at SheNYC at the Connelly Theater (2018), and was workshopped at Berklee School of Music in Boston (2019). Alex was commissioned by CPA Theatricals to write and record music for Girlhood: The Musical, which premiered at the Bravo Performing Arts Center (2019). He has been a host at a Musical Theater Factory Salon in March 2021 and was invited to showcase songs from his musical, Alex Petti and The Nervous Rex Present The Hometown Tour, at Musical Theater Factory in the 2021-2022 season. Alex also leads the New York based rock band 'good thoughts' who released their debut EP 'For Hard Times/From Hard Times' in October 2021.
Alex is a proud graduate of Carnegie Mellon University, a member of the BMI Advanced Musical Theater Workshop, and a proud Dad to his cat, Sonia.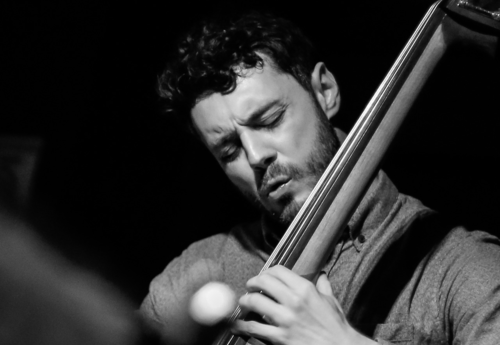 Rick Rosato (bass)
A native of Montreal, Rick Rosato moved to New York City in 2007 to study at The New School for Jazz and Contemporary Music in New York City. He quickly became one of the most in-demand jazz bassists and maintains an international performing, recording, and teaching schedule. In 2010, he led a three-month artist series at the Upstairs Jazz Club in Montreal, where he formed several groups featuring some of today's most influential voices in jazz, including the co-led trio Stranahan/Zaleski/Rosato. In the summer of 2014, Rosato competed for the TD Jazz Awards at the Montreal International Jazz Festival with his own trio and won the Galaxie Jazz Award for best composition. Rosato tours internationally and records with groups such as Gilad Hekselman, Stranahan/Zaleski/Rosato, Ben Van Gelder, David Kikoski, and Will Vinson. He has performed alongside Billy Hart, Peter Bernstein, Mark Turner, Dayna Stephens, Chris Potter, Aaron Parks, Bill Stewart, Marcus Gilmore, Jeff Ballard, Ari Hoenig, Mike Moreno, Lage Lund, Charles Altura, and many more.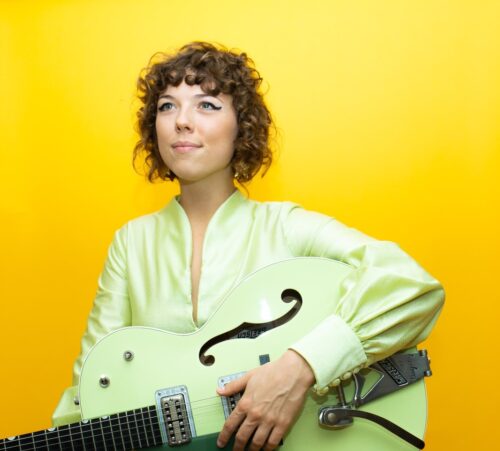 Kaycie Satterfield (guitar)
Kaycie Satterfield is an established singer-songwriter, guitarist, vocalist and bassist. Growing up in Austin, Texas, she cut her teeth performing festivals around Texas with several Western Swing outfits. She was involved in choir and rock bands from a very young age, and also competed in songwriting competitions in central Texas including Old Settler's Music Festival. Kaycie attended Belmont University in Nashville, Tennessee, where she earned a Bachelor of Music in Commercial Music with a voice principle and an emphasis in composition and arranging. During her time at Belmont, she sang in Belmont Chamber Singers, a chamber vocal ensemble, and Jazzmin, Downbeat award-winning jazz vocal ensemble. She was also part of indie-rock group The Reckless Charms, whom were chosen for a live audition in Los Angeles for America's Got Talent in 2015. Her senior year, she was chosen as one of four finalists in Belmont School of Music's 25th Commercial Showcase. She taught at Southern Girls Rock and Roll Camp every summer. After graduation, she spent a season as the house guitarist at the world-famous Grand Hotel on Mackinac Island, Michigan. She then performed locally in Nashville, including as a house band member for She's A Rebel: A Girl Group Tribute Show before moving to New York. There she began working as a singer-songwriter, performer, session and live musician for artists such as Madame Gandhi, as well as songwriter and music educator. She is currently working on her debut album.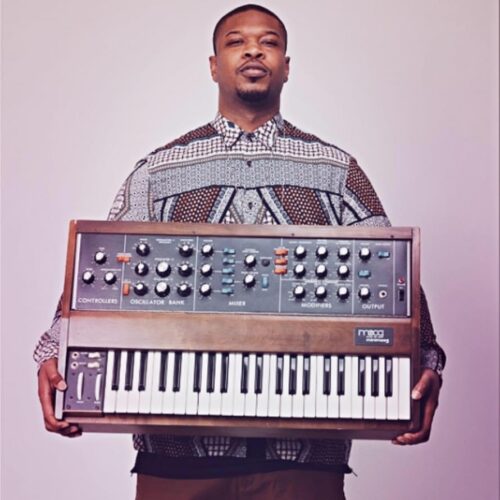 Chad Selph (piano)
Although Chad's siblings all but ignored the piano their mother bought for the family home, Selph naturally gravitated to the instrument. Since his mother planted the seed of music in his mind, Selph has continuously taken steps to grow his musical knowledge, improve his musical skills, and display his talent for performing and composing music. He began piano lessons at age eight, and eagerly played what he would learn during the lessons for the other students in his elementary school music class. By high school, he was participating in regional and all-state jazz bands as a pianist. Legendary drummer Terri Lynne Carrington presented Selph with Berklee's Outstanding Musicianship award. He would later end up attending and graduating from Berklee College of Music himself. Growing up in Middletown, Connecticut, Chad's early experiences with music involved playing and listening to Gospel, Jazz, R&B and Hip Hop. Over time, his desire to merge these distinct but similar sounds has evolved into an ability to build upon the musical traditions of those genres. Chad is currently based in NYC and through his years as a full time professional musician, he has had the privilege to collaborate with phenomenal artist like Lalah Hathaway, Bilal, Georgia Anne Muldrow, Pharaohe Monch, and many more. He is also the leader of the band Freelance, a 6 piece all star band that's been a new exciting presence in the music industry. His constant pursuit of musical knowledge and efforts to build a network with other musicians and music educators will ensure that he stays on the path that will lead him to the highest possible point in his musicianship.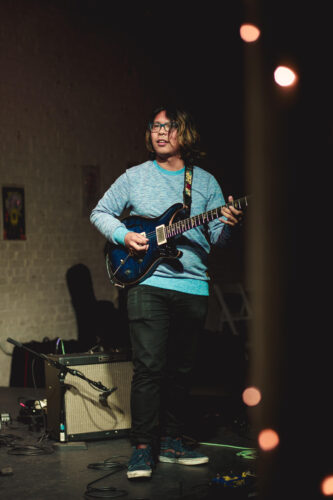 Prawit Siriwat (guitar)
Brooklyn based guitarist and composer, Prawit Siriwat, explores spontaneous creativity with tactile sonic textures and virtuosic musicianship. Whether it is through simple yet natural beauty of acoustic strings or the bloopy-bloop filled electro-sonic worlds, he has a meditative approach to creating his musical pallet.

Siriwat's solo releases ("Aquarium Sounds" and "Nest") document his improvised sound art practice as he uses a combination of acoustic and electronic materials to shape a sonic environment. His newest work, "All My Friends Are Sleepy," set for release in 2021, plays with how we experience dreams viscerally.

The prolific guitarist is also planning to record a book songs for his jazz-rock power trio, inspired by musicians like Oz Noy, Adam Rogers, and Wayne Krantz. Siriwat writes open form pieces with angular melodies and ambient soundscapes that create space for the musicians to interact directly with the audience and environment.

As a sideman, Siriwat's attention to subtle sonic detail has made him indispensable for songwriters and band leaders. He has performed, recorded, and toured with artists like Bobby Previte, RVBY MY DEAR, Bianca Muñiz, Ruby Greenberg, Jo-B Sebastian, Colin Hinton, and many others in the contemporary and creative music scenes.  In 2020,  he started working with the NowNet Arts Lab Ensemble, an organization that researches technologies as well as performance approaches to network arts, under the direction of Sarah Weaver.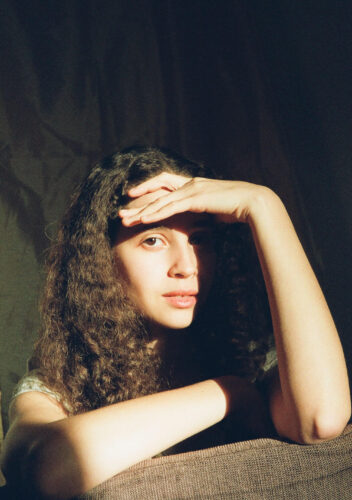 Rose Stoller (ukulele)
Rose Stoller is an NYC-based multidisciplinary artist. She merges her influence of contemporary jazz, r&b, the Laurel Canyon folk rock scene, Brazilian music, and ambient soundscapes into a corner of her own. Rose has worked as an actor and collaborator in various theatrical productions, both with her co-created production company, Rascal Arts, and with a variety of other organizations nationwide. Recent involvement includes The Atlantic Center for the Arts (New Smyrna Beach, Florida) and The Puzzle Festival of New Works (NYC).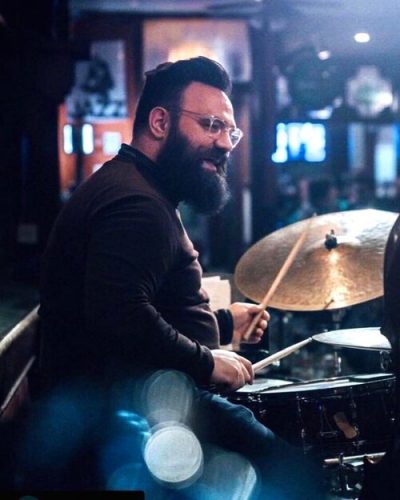 Colin Stranahan (drums)
Born In Denver, Colorado, and the son of a Jazz Educator, Colin Stranahan has always been surrounded by music. By his teenage years he was already actively working on the local Denver scene, and has recorded multiple records of Capri Records. After receiving the prestigious NFAA Presidential Scholar award in 2005 , he studied in California for one year as a Brubeck Institute Fellow. Shortly there after he attended the prestigious Monk Institute of Jazz. Stranahan was also one of the winners of the 2012 Thelonious Monk Drum Competition. Now living in Brooklyn, New York, Colin is among the most sought-after drummers in the world. working with such artist as Kurt Rosenwinkel, Jonathan Kreisberg, Fred Hersch, Terence Blanchard, Dave Kikoski, Kevin Hays, Herbie Hancock, Wayne Shorter and many others. He also now is part of a collective trio featuring some of the most talented and praised you musicians in New York City. Rick Rosato on bass and Glenn Zaleski on piano. Together they are the Stranahan/Zaleski/Rosato trio. They have recorded 2 albums that have been very successful and a third on the way which was recorded Live at Smalls which is scheduled to be released in 2015. . Colin Stranahan currently holds teaching positions at a couple of different conservatories in Europe, where he teaches both private lessons, and ensemble teaching. Aarhus Royal Academy of Music, and London's Royal Academy of Music. Colin also has started teaching at a few summer Jazz programs including The Brubeck Institute Summer Jazz Colony, and The Fara Sabina Summer Jazz school and Festival in Fara Sabina, Italy. Colin also has been giving drum master classes all over the world. Some of these recently have included, Oberlin Collage, New England Conservatory, International Jazz Conference in Thailand, and at the Singapore Esplanade Jazz Festival.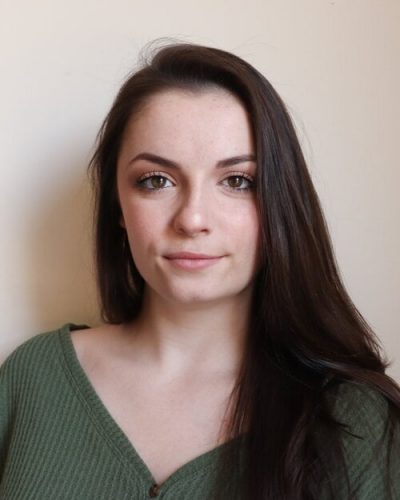 Claire-Frances Sullivan (musical theatre)
New York City based and rural Michigan bred, Claire-Frances is an actor, singer, musician, composer/lyricist, and playwright. She graduated from Central Michigan University with a BFA in Musical Theatre Performance. Claire-Frances has most recently performed in New York City with the Signature Theatre Company, TheaterLab, and in various cabaret settings.
Claire-Frances is an internationally produced and award-winning playwright with work produced by and/or developed at the Powerhouse Theater, Midland Center for the Arts, TACT studios, The Pulp Stage Theatre Company, Festival 56, and the Bread and Roses Theater. She is a member of the Dramatists Guild, the Playwright's Center of Minneapolis, and is a lyricist with the BMI Lehman Engel Musical Theatre Workshop. Claire-Frances's original musical, Fostered Love, was the recipient of the Kennedy Center's National Musical Theatre award through the Michael Kanin Playwriting Awards in 2018. Her work includes short plays, full-length plays, song cycles, and full-length musicals with original book, music, and lyrics.
Whatever the medium, Claire-Frances is dedicated to being a person and what that means when you get to make art with other people. You may have seen her at the Open Jar Institute for Musical Theater, at the Powerhouse Theater Training Company as a playwriting apprentice, or at the Eugene O'Neill Theater Center in residence as a playwright observer. When she's not making things, Claire-Frances loves playing Stardew Valley, spoiling her two cats, and tending to her family of plants.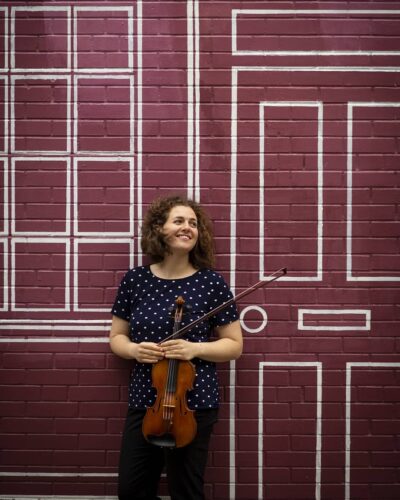 Hannah Tarley (violin)
American violinist Hannah Tarley began playing the violin at age two.
A Winner of Astral Artist's 2018 National Auditions, Hannah has soloed with orchestras including the San Francisco Symphony, Detroit Symphony, Academy of Conducting at Aspen Orchestra, Kiev Soloists, Lynn Philharmonia Orchestra, and San Francisco Symphony Youth Orchestra.
Hannah has collaborated with leading musicians and artists such as Itzhak Perlman, Michael Tilson Thomas, Jake Heggie, Mark Kaplan, Hsin-Yun Huang, and Nobuko Imai. She has participated in festivals including the Perlman Music Program, [email protected], IMS Prussia Cove, Olympic Music Festival, Kronberg Academy Masterclasses, Heifetz International Music Institute (Artist-in-Residence), and Aspen Music Festival and School.
Hannah is the Founder and Artistic Director of Notes By The Bay Music Festival,
an exciting children's music program in California. Now in its 7th season, it is a one-of-a-kind classical music festival for young musicians that brings together the magic of music, poetry, and theater. Notes By The Bay focuses on cultivating individual creativity, sense of imagination, and the importance of self-expression through words and music. The festival features ensemble playing, workshops and masterclasses in music and theater, and free concerts for the San Francisco Bay Area community.
She also performs with Violins of Hope, an organization that brings to life the history of the Holocaust and the stories of its victims and their violins. Hannah was one of the featured violinists during VOH's 2020 San Francisco residency, which included performances in schools, museums, churches and synagogues all across the Bay Area.
A former student of Robert Lipsett at the Colburn School, Hannah received her Bachelor's Degree, with First Class Honors, from the Royal College of Music in London, studying with Mark Messenger. She received her Master's Degree from the Juilliard School, under the guidance of Itzhak Perlman, Donald Weilerstein and Catherine Cho, and was awarded the Irene Land Scholarship and the Norman Benzaquen Career Advancement Grant.
Hannah recently graduated with a Master of Musical Arts degree from Yale University, studying with Ani Kavafian, and was awarded the Horatio Parker Memorial Prize and the Philip F. Nelson Prize.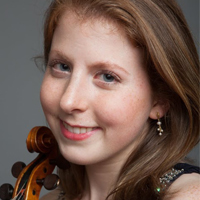 Erica Tursi (violin)
Erica Tursi is a classical violinist that enjoys performing, teaching, and spending time with her cat, Bentley. She has received top prizes at competitions in the United States and in Europe as a founding member of the Omer String Quartet, which include first prize in the Young Concert Artists International auditions, first prize at the Premio Paolo Borciani Competition in Italy, First prize at the Fischoff National Chamber Music Competition and 2nd prize at the Trondheim International Competition in Norway. The quartet has been hailed by the New York Times as "glowing and vividly dramatic."
Erica received a Masters of Music at The Juilliard School, a Bachelors of Music from the Cleveland Institute of Music as well as Suzuki certification (books 1-10 and pre-twinkle), and a Graduate Diploma from The New England Conservatory of Music. She has held a private teaching studio for over 8 years, and she has experience teaching in the New England Conservatory Prep program as well as undergraduate chamber music students at Yale University and the University of Maryland. In addition to being a teacher at MMC, she is currently leading virtual masterclasses in the Harmony Program, based in NYC and teaches at the Bronx School for Music.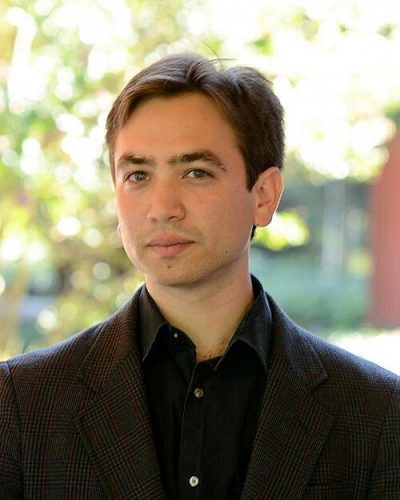 Alex Van Gils (computer music/Abelton, music production, composition, bass)
Alex Van Gils composes music for humans, instruments, and computers. He is currently captivated by notions of transition and gradient—liminal spaces and in-betweens. Alex holds a Ph. D. in Music Theory and Composition from UC Davis. His dissertation work included The Permanent, a concerto for improvising jazz saxophone and orchestra. Alex lives in Brooklyn, NY, and his active projects include XBUCKET, a performance trio featuring live-processed violin and generative video, and also a discipline of daily compositions with Max/MSP/Jitter visuals uploaded to @avg.music on instagram. Alex is a founding member of Cutelab, a place for colors and sounds in NYC.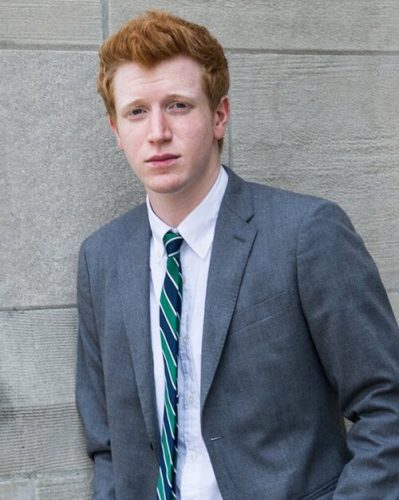 Ben Wexler (composition)
Ben is a New York-based composer, arranger and teaching artist. Recent projects include composition for Lucy Thurber's The Insurgents (LAByrinth), The Orchestra (Whitman/Grove New Works Commission), Appaholics (TheaterWorks USA Commission), Key Change (Richard Rodgers Award Finalist), Ship Show (dir. Mark Brokaw), and Washington Square (in development with Kirsten Childs). He arranged and co-produced new music for the feature film Speech and Debate, with screenplay by Stephen Karam (Sycamore Pictures, 2017). He was music supervisor and arranger for Fun Home's Spotify Session, the first-ever featuring a Broadway Musical.
Ben is the Artistic Director of the Broadway Advocacy Coalition, which merges Broadway Artists with justice-oriented organizations to integrate the arts into their change work. Projects have included collaborations with The Center for Popular Democracy, New York City Council, the Alliance for Quality Education, and a course at Columbia Law School, where he is an adjunct lecturer. He is a teaching artist for Lincoln Center's Songwriting in the Schools program. Ben is resident composer for A Broader Way Foundation, an immersive arts-education program for young women that was founded by Idina Menzel and Jeanine Tesori. Ben served as associate to Ms. Tesori on four seasons of Encores: Off-Center at New York City Center and for Fun Home, Violet, and Sunday in the Park With George, all on Broadway.
Ben has been commissioned to compose original music for choirs in eight states, from Alabama to California to Ohio, leading these groups to top honors at both local and national competitions.
Ben is the recipient of a 2019 Jonathan Larson Grant, The Jerry Harrington Award for Creative Excellence (2013, BMI), a finalist for the 2018 Fred Ebb Award and 2019 Richard Rodgers Award, trained through the New Dramatists' Composer-Librettist studio, and was a Dramatists Guild Fellow (2015-16). Ben holds a B.A. in Music with a focus in composition from Yale University and is a member of Phi Beta Kappa.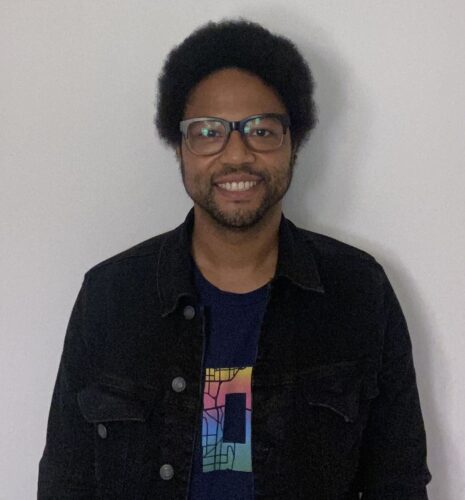 Carter Yasutake (trumpet)
Carter Yasutake is a professional musician with over 15 years of experience as a performer. He attended the New School and studied with musicians such as Jimmy Owens, Cecil Bridgewater, Eddie Henderson, Bobby Sanabria, Billy Harper & Ahmed Abdullah. All of whom would be integral in shaping his musical and teaching philosophy.
Since moving to New York city in 2002, Carter has performed with such notable acts as Irving Street Repertory, LCD Soundsystem, Macklemore, David Byrne & St. Vincent. He is currently working with Brooklyn-based bands: Midnight Magic, Underground System, Living Language, and the Great Long Meadow Fire.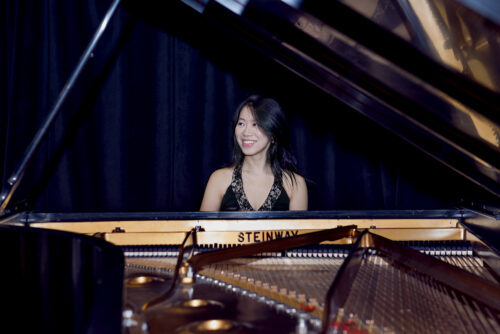 Sophia Zhou (piano)
New-York-based pianist Shuhui (Sophia) Zhou has been performing as a soloist and chamber musician internationally in the Royal Concertgebouw in Amsterdam, Carnegie Weil Concert Hall, the National Sawdust in New York City, Kennedy Center in Washington D.C., Shanghai Concert Hall, etc. She is the winner of the V BPA International Piano Award of Barcelona and completed a critically acclaimed concert tour across Spain.
As an avid collaborative musician, her recital partners include members of New York Philharmonic, Berlin Philharmonic Orchestra, the Metropolitan Opera House, HK Philharmonic Orchestra and Shanghai Symphony Orchestra.
Sophia is passionate about music across genres and styles. She has recorded and premiered works by living composers such as Thomas ades, Benjamin Broeming, and Alexander Goehr.  She has worked extensively as a vocal pianist with Brooklyn Art Song Society, Mannes Opera, Bare Opera, Classical Lyrical Arts in Italy, to name a few. She was a fellow with Bach Institute in 2016, and performs with Emmanuel Music in Boston and Mannes Baroque Ensemble in New York City on harpsichord and chamber organ.
Born and raised in Shanghai, Sophia was offered full scholarship by Oberlin College as the first double-degree Bachelor student from China, majoring in Piano Performance and German literature.  She continued her studies in Vienna, Austria with Dr. Jan Jiracek von Arnim in University of Music and Performing Arts, as well as musicology with Dr. Morten Solvic, renowned Mahler scholar based in Vienna. Sophia frequently performs and further her studies in European summer festivals, working with renowned pianists and pedagogues from Germany, England, France, Italy and Spain.
Sophia is currently a graduate fellow in Bard Conservatory of Music, assisting the Graduate Vocal Program and serving as a secondary piano instructor. She has been on faculty staff in Wilton Music Studios in Wilton, CT and Hoff-Barthelson Music School in Scarsdale, NY. She enjoys working with students ranging from absolute beginner to young professionals, as well as whoever wants to explore the joy of music and the art of piano playing.
In her spare time, Sophia loves practicing yoga, listening to French chansons, programming new concert ideas, and working on a translation project of Jan Swafford's Brahms biography from English to Chinese, to be published in 2025.